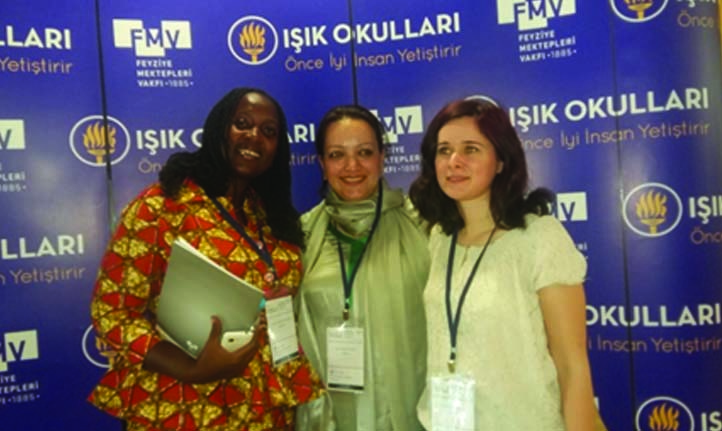 Ms. Nowsheen Bashir attends conference in Turkey
---
AFS intercultural programs promote international understanding and world peace. AFS believes that we must build bridges of understanding and mutual respect between countries and cultures around the world.
Ms. Nowsheen Bashir Academic Incharge of class 9th and 10th of our school attended a 5 days conference in Turkey which was held  by AFS Turkey. The theme of this conference was "school in the future, and the future of the schools".
The aim behind this conference was to frame education models which stem from the values and culture of each society. The conference was aimed to believe that cultural differences are healthy if we take them positively as 'no culture is good or bad, they are just different' meaning that we all do the same things but in a different manner. An ice-breaking session was held with other partner countries at the dinner time on the first day. The second day began with a training cum workshop where participants got to know eachother through informal interactions.
The trainees also gave the detailed information about how the organizations (AFS, EFIL and SOE ) work together to bridge the gap in the field of education.
The brain storming sessions on inter- cultural learning were held in which many areas were discussed but the emphasis was laid on:
Global perspective.
Local and global citizenship
Changing stereotypes.
Differences in educational curriculum.
Knowing each other's culture.
The delegates went on a tour around the city of Istanbul, to visit Yerebatan Cistern, Aya Sophia, Blue Mosque and Topokapi palace.
Delegates also had deliberations and discourses on lot of issues such as need to empower the teachers.
In a position to identify his/her own needs
Be open to improvement wherever required
The teacher should work with the students in a collaborative manner thereby respecting the individuality of each child. This will foster creative and critical thinking. The result would be a more flexible and dynamic education system. This way a teacher becomes a change maker as well.
Also to sustain at a global level, there is a dire need to have a humancentric approach to education whereby a teacher is expected to be optimistic and empathetic.
This conference was attended by the renowned educationists and experts from across the globe who gave their own perspectives. Everyone presented their own views. Some educationists believed that ensuring young people master changemaking skills of creativity, teamwork, leadership and  empathy is our best chance of solving the world's most complex social problems. Though we did not reach to any single consensus, yet a lot of positivity was generated to make our schools more future ready.
After the conference, the participants were taken for a gala dinner on boat and bosphorus tour.
On 17th April a cultural bazaar was held where we showcased our own culture and learnt the cross cultural dynamics of other cultures through this exhibition.
The conference concluded with a mesmerizing sufi music presented by famous Turkish musicians.