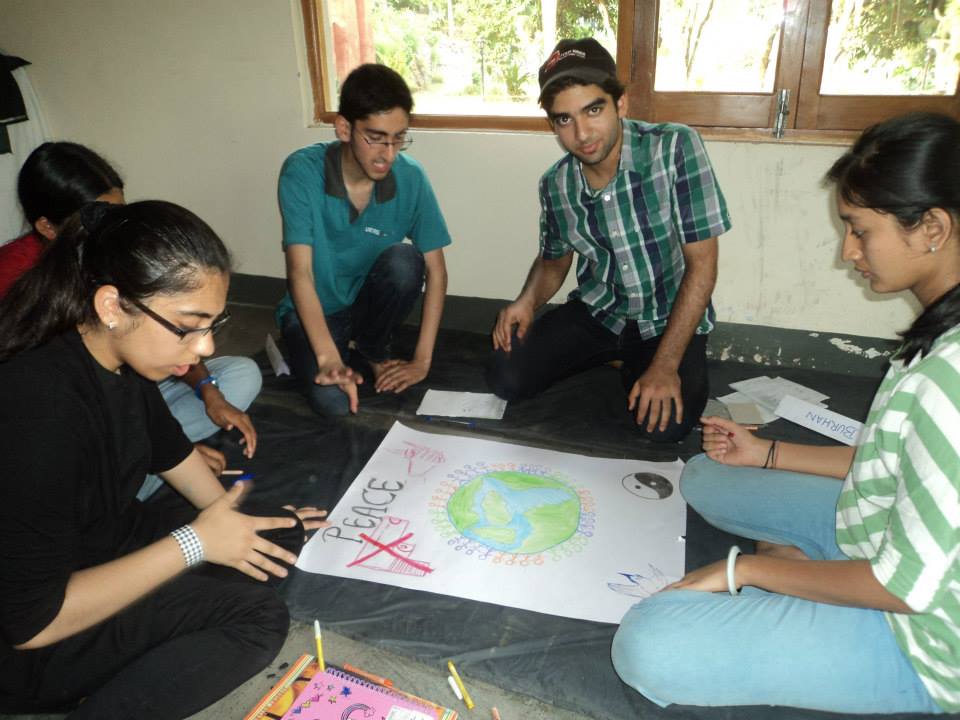 Planet Harmony Project
---
Planet Harmony is a project that intends to help students from affected areas build around themselves an environment conducive to amity, integrity & development. This project plans to identify students (between 15 – 18 years) & teachers from disturbed areas of our country and get them a host/ buddy in the National Capital Region (Delhi). The buddies and host families are carefully selected and sensitized. It intends to bring the J&K, Northeast and Jharkhand students to Delhi and their buddies host the visitors while they are in Delhi.
Planet Harmony devised Snow Leopard Adventure Camp, which is a scenic, safe and secure location, a program similar to the one run by Aspen Global Leadership School. Planet Harmony also has a post-program 'project' component and a follow-up component. The project will have to further the programme credo 'From Conflict to Harmony' and Project Harmony plans to give visiting participants an education grant once they start their project. During the program, the faculty emphasizes on value-based leadership development and will encourage participants to be thinking citizen volunteers. The project intends to help them build around themselves an environment conducive to amity, integrity & development. The credo of Planet Harmony is 'From Conflict to Harmony'.
Ajeet Bajaj, a fellow of the Aspen Global Leadership Network, launched Planet Harmony by Ananta Aspen Centre (earlier known as the Aspen Global Leadership School).
Delhi Public School sent a team of students along with escort teachers to the Snow Leopard Adventure Camp for a week. They assembled at Modern School, Barakhamba Road and there the buddies met their charges and took them for sightseeing of Delhi along with a guide. From June 1 to June 10, every concievable activity for the enhancement of their cultural growth and experience was devised for the team from J&K. From sightseeing to experiencing and cooking continental cuisines, as well as adventure sports with ice-breaing activities and movie watching in Camp Panther, they were shown warm hospitality and genuine camraderie.
 Some of the participants had this to say about their experiences:
Participant 1:  
My experience of going to this program i.e. PLANET HARMONY was a life time experience. Here I tried all those things which I had never tried before like Rafting and zip linning. At this program I was able to overcome all my fears like water phobia, fear of heights and stage fright. Although I was very scared before facing all my fears but still I was the first to attempt all those activities because I wanted to see whether my fear was stronger than me. Here I  was also able to know about other cultures and traditions as well as the things that  other people from different conflicted areas face and relate them with that of ours. When we went to the Orphanage, where children whose parents were suffering from a disease called "leprosy" were living. It was really inspiring to see them living unconditionally. My exposure to this environment truly developed a global sense in me.
Participant 2:
At the end of the program we were asked to opt for an individual project which would contribute to peace and harmony. So the idea that I came up with was to start this program in our school and spread it all over Kashmir. This initiative of mine will include a weakly club and an annual festival in which we would have activities like poster making, discussions, skits,and  campaigns promoting peace. For promoting this program all over kashmir we can also invite other schools and the local Kashmiris through invitations and newspaper advertisements. I would definitely need the support of  y Family, my School and Planet Harmony. I hope you all agree with me and will support me to make Kashmir a better and a peaceful place to live in.
Delhi Public School continues to work for the development of the holistic development of the young generation through exchange programs and adventure camps.
Invalid Displayed Gallery