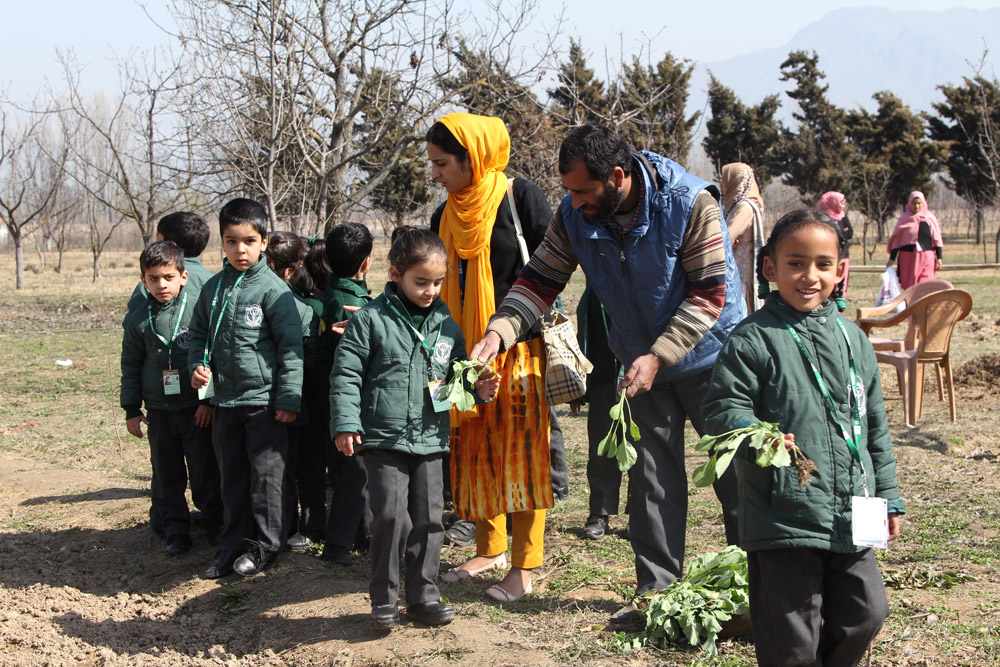 Plantation Week: Visit to Farm House
---
'Just as we learnt ABC

Let's all learn to plant a tree.'
The school organized a 'Plantation Week' from 16th March to 21st March 2017 for classes LKG to II. The purpose of the plantation week celebration was to create awareness among the students to plant more and more trees for a healthy and safe environment.
The Tree Plantation Programme commenced with our toddlers visiting a nearby farm house. In the spirit of the event the students enthusiastically participated in the programme with an aim to spread the message of afforestation.
A visit to the farm house is always exhilarating and inspiring. The day was filled with great anticipation as the students planted various types of saplings like cauliflower, knol khol (kashmiri saag), etc. The teachers had explained the students about the trees and the importance of tree plantation well before-hand. The helping staff at the farm house taught the students the correct technique of planting the saplings and watering the plants. They enriched our students with productive knowledge about the plants and their uses.
Students sprightly took a walk around the farm house and saw different types of trees such as apple trees, plum trees and the mighty chinar trees. They were all excited to see the green house and were imparted with knowledge on how cow manure is used as compost for plants. It was a very enriching experience for the small kids who loved being close with nature. The students will visit the farm house again in the coming days in order to monitor how big their plants have grown.
The plantation week concluded with an Eco Rally in the school premises as the students of class UKG, I and II participated in the walk across the school ground carrying banners and chanting slogans such as "Nurture Nature", "Don't use polythene" and "Plant More Trees". It was all fun and frolic as the students of LKG eagerly did an activity about hand-printing in which they coloured their hands green and brown and put their little hand-prints on papers, spreading the message of planting trees.
The whole week turned out to be a delightful, enjoyable and an inspiring event for the kids as well as the staff. DPS family would like to thank parents for their special efforts in preparing the beautiful and informative banners for eco rally and for helping us make the drive a success.
Class UKG