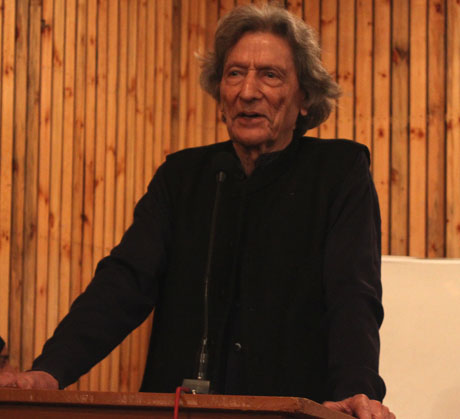 Poet, Keshav Malik interacts with DPS Students
---
Keshav Malik, a well-known Indian Poet, Critic, Arts Scholar and Curator visited DPS, Srinagar on 17th of October, 2012.
Born in the Punjab Province of Pakistan (then India), Malik graduated from the Amar Singh College in Srinagar, Kashmir in 1945. He was a personal assistant to Pt. Jawaharlal Nehru from 1947-48.
Keshav Malik has served as the art critic for the Hindustan Times and The Times of India for long periodsof time. He has published ten volumes of poetry and edited six Anthologies of English translations of Indian poetry.
"I did not realize the School is this big…." were his words while addressing the students. He interacted with the students of Class XI and shared his experiences with them. Apart from this, the students also got to know some tips for composing poetry.
Keshav Malik has done great works like "The Lake Surface", "Storm Warning", "The cut-off Point" poems and was awarded the Padma Shri in 1991.