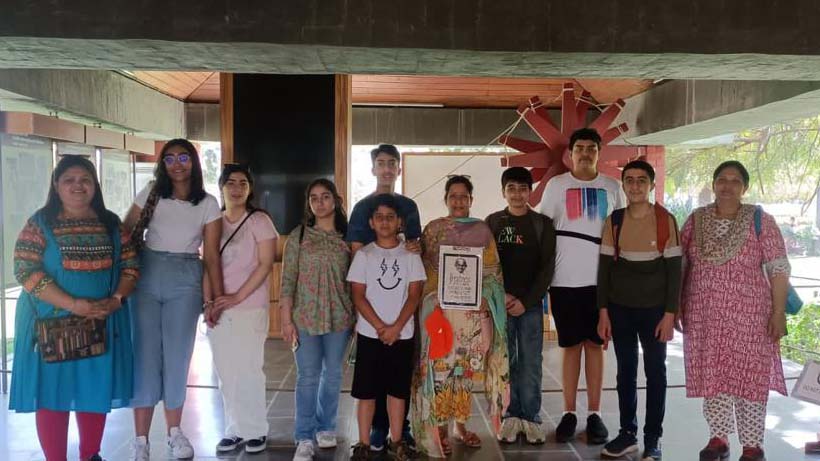 School organises inter school exchange to Gujrat based Shrishti English Medium School
---
DPS, Srinagar organised an inter school cultural exchange program to Shrishti English Medium School, Anand- Gujarat for students of the school who were headed by Ms Monisa Khursheed- Academic Incharge from 19 to 26 February, 2023.
The aim of the exchange program was to provide a first hand experience of diverse culture of Gujarat through a well planned itinerary put together by the host school. Students were staying in different host families which helped them to understand the culture better.
The DPS, Srinagar team was offered a warm welcome by the staff as well students and had an interactive session with the teachers of the school.
Over the following days, the students visited various places of historical importance. These included a one day trip to Ahmedabad to visit places like Gandhi Ashram, Kankaria Lake, Adalaj Step well and Atal bridge.
It was quite soothing experience , a place for mediation at Gandhi Ashram as silence was prevalent every where. Students purchased few stationery items from the Ashram book store to appreciate the work done by the local artisans. Kankariya Lake front represents rejuvenated pedestrianised urban space with varied options for entertainment. Students enjoyed speed boat ride amongst the various water sports. Students were impressed by the finest carving work of the five five storied Adalaj step well.
It was mesmerising experience to visit Statue of Unity- world's tallest statue (182 metre). It houses a museum with almost 2000 photographs , documents and a theatre. Besides this , students also visited Sardar Vallabhai Patel Memorial Hall. Amongst the industrial visits, Amul Dairy and chocolate factory guided visit was treat for the eyes. Students were astonished to see the huge machinery and hygiene maintained in it. Students got the first hand experience to watch papad making in papad factory.
A dinner was organised by Director of the school for all the host families and DPS team to interact with each other.
On the second last day, a cultural evening program was organised by the school where all the host families and few members of AFS were invited. The students participated in a cultural program by presenting a ppt that offered a glimpse into Kashmiri culture and tradition and presented a folk dance. Host school teachers as well as students were dressed in their vibrant traditional costumes and presented folk dance and ppt to detail few more things about their culture.
Warli art session was organised on the last day of the visit for the students in the school in which they participated with enthusiasm and impressed the resource person with their creativity. Besides that students had to spend the day with host parents which was a quite memorable experience.
Addressing the returning students, the Principal Shafaq Afshan said, "Exchange trips are an effective instrument to develop and refine the intellectual faculties of students. We at DPS Srinagar are glad to have catalyse such a trip for our students."