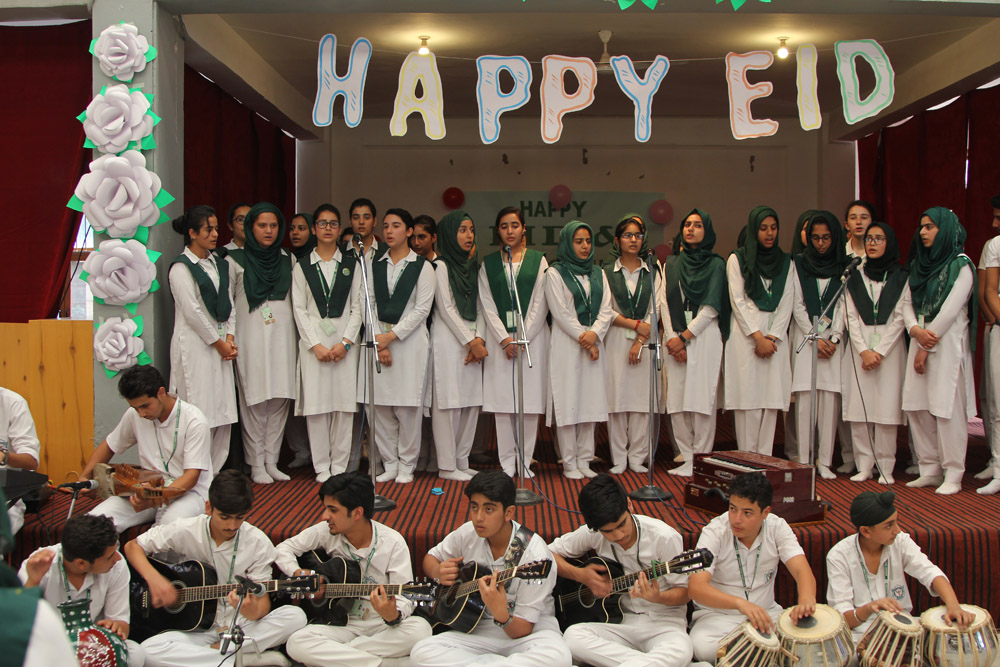 Secondary Wing holds special Assembly
---
On 6th September' 2017, the Secondary Wing held a Special Assembly for Eid ul Azhar and Teacher's Day in the Indoor Stadium from 1:00 pm to 2:30 pm.
The Assembly started with the prayer followed by two songs for/about Eid and Teachers respectively. The songs were followed by a Ro'f performance and a skit.
The last part was the Dedication by the students to the teachers. The children played a song for every teacher and gifted a self-made greeting card to him/her.
The assembly was enjoyed and appreciated by one and all. The children had worked really hard to perform their best and the teachers also played an important role in making the assembly a success. There are some important mentions.
Mr. Iftikhar (Art) had decorated the stage and the stadium very beautifully. Two students of 10th A namely Usman and Faizan, helped him in decorating the stadium.
Mr. Sajid supervised preparation for the Skit. Mr. Manzoor (Phy) took care of the requisitions and other arrangements for the assembly. He also helped Mr. Iftikhar in the decoration of the stadium. Mr. Arshid prepared the prayer and the songs with the children. Ms Mushkeen took care of the anchoring part, thought for the day, speech and the dedications for the teachers.
Basit, Mahrukh, Jaezlan and Arsalan of 10th D downloaded and played the songs dedicated to the teachers. Ahmed and Anaum of 9th F were the anchors for the first half and Jaezlan and Basit of 10th D were the anchors for the second half.
The beautiful cards were made by children of different sections of class 10. The task was assigned to them by Jaezlan and Mahrukh of 10th D.