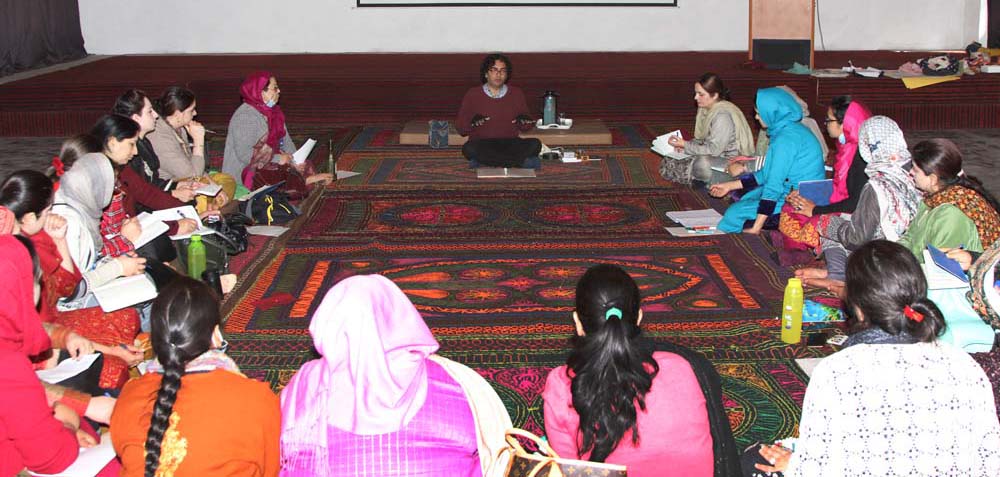 Self-Care Sessions using Art Therapy
---
Throughout the pandemic, teachers have had to navigate temporary shutdowns, hybrid learning, and masking policies. But even before COVID-19 complicated their lesson plans, teachers were struggling. Structured, community-based art therapy interventions provide a venue for collective expression, normalizing responses, and identifying those in need of more intensive care. Against this backdrop, Delhi Public School, Srinagar organized an advanced therapeutic workshop based on the theme "Through the cracks, the light shines" in which around 100 teachers enthusiastically volunteered from all the Departments from March 14th to 25th, 2022. The aim of the workshop was to attain a long-term positive mental outlook for cultivating creative solutions, as well as providing a renewed sense of agency and resolution.
Mr. Vikramjeet Sinha, an Art Based Therapist /Stage Actor and Director based in New Delhi, led the teachers through an art directive, to help them process and understand their emotions. In these expressive art therapy sessions for growth and healing, he helped teachers: repair relationships, enhance endeavors, maximize their potential, manage emotional and physical health, improve job performance, achieve career goals, enrich the lives of others and contribute to our community.
Mr. Vikramjeet Sinha smashed the clay pot moments after showing the teachers it in mint condition. The demonstration had a deeper purpose. The pot is symbolic of humans as they enter the world – unblemished and unbroken. But humans, like these pots, encounter circumstances that can chip away at them or cause deep fractures. He also worked on creating puppets with teachers to facilitate a space of performance for young children, transcend didactic teaching styles, and bring about skillful ways of communicating to young ones about life issues and lightness.
Teachers found that these sessions provide a way to visually express emotions that are too painful or difficult for words. In doing so, they have experienced a reduction in stress and an elevation in mood. Teachers expressed that this visual language of the art-making process in a therapeutic setting helped them to easily recognize, express, and process the emotions that can keep them entangled and stuck in difficult life situations. These art therapy sessions also helped in practice problem-solving skills, increase self-esteem and gain the courage to explore life transformations.