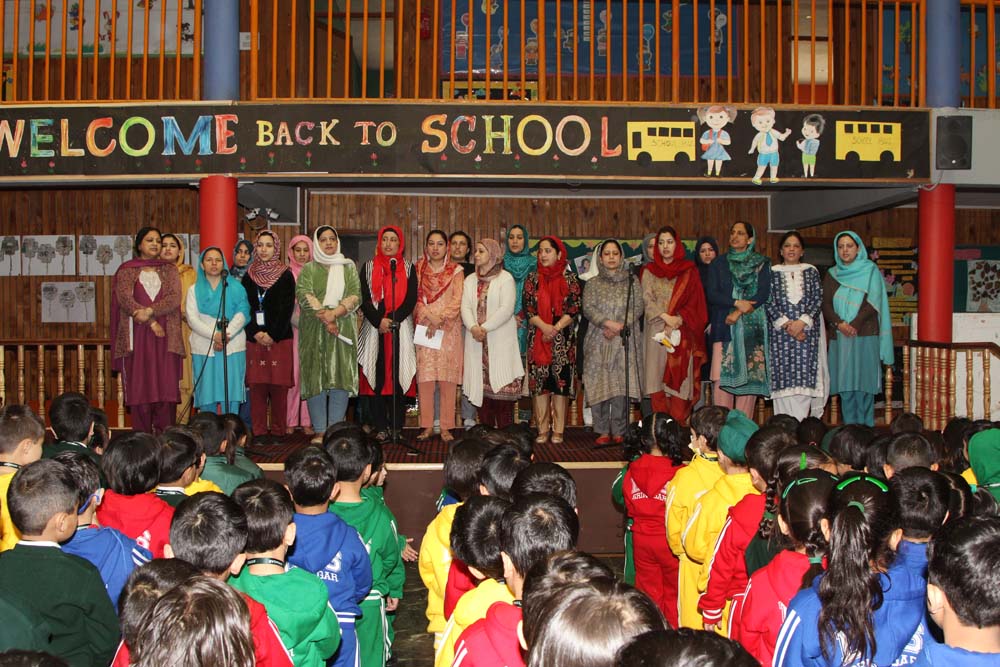 Special assembly held by Primary Department
---
"Every day is the new beginning, a chance to take our first step, a step that can promise us a new horizon and a whole lot of new possibilities"
After a relaxed vacation with the spirits held high, students of Primary Department joined back the school with mixed emotions and feelings of excitement and thrill. The primary wing, organized a special assembly on March 16th, in Primary Department Atrium where the teachers warmly welcomed the students back in School. The special assembly was conducted for the commencement of new academic year and was aimed to strengthen the bond between the teachers and students. The program was hosted by Ms. Mariya chishti and Ms. Mir Minsha and all the teachers of UKG, I and II Grades participated in different programs.
The assembly started with the prayer song "sahibo sath cham mae chaeni". The recital of melodious song not only helped build the connection stronger with the students but also motivated them to be committed and assiduous in all their future endeavours. An array of items was hosted for the students creating a splendid aura of magnificent erudition. Next a "Welcome Song" was performed that was followed by a Puppet Show for the children which infused in them the spirit of compassion and empathy. The theme of the puppetry show was "Back to school and looking Cool". The students enjoyed different acts performed by their teachers that kept them captivated and enthralled throughout the assembly.
The assembly ended with an inspiring speech by the Principal, Ms. Shafaq Afshan. She shared the mantra of every day happiness with the students and also encouraged students to integrate the core values like kindness and understanding in their daily lives. She applauded the efforts of teachers in putting up a spectacular assembly and wished them an accomplished and knowledge-filled academic year ahead.