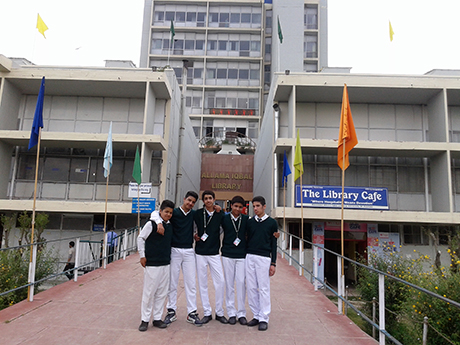 Students visit Allama Iqbal Library, University of Kashmir
---
Students of the class IX of DPS, Srinagar went for a visit to Allama Iqbal Library, University of Kashmir accompanied by their Home Rome teacher.
The Allama Iqbal Library (Central Library) is the largest library in the state J&K in terms of infrastructure, size, number of books and number of staff members. It is an impressive multi-storeyed building with forty three seminar libraries attached to respective departments of the university. It has 16 divisions, more than 6 Lac books in addition to 4 Lac online journals and digitized books.
Students of DPS greatly benefited by this trip as they were exposed to a system that mostly work on 'Radio Frequency' and 'WIFI'. They also imbibed the rules and regulations and understood the relevance of this setup in our culture, not forgetting the service centers that later to a diverse group of people ranging from scholars to layman. Last but the least, students took a tour of the Central Asian Museum housed inside the library which enriched their minds to a great extent.
Invalid Displayed Gallery