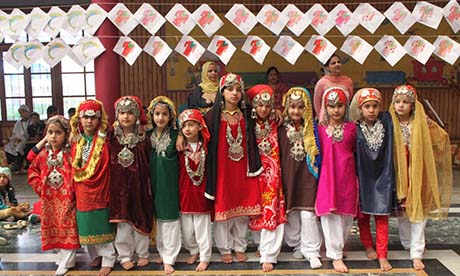 "TINY TOTS CELEBRATES KASHMIR DAY JANNAT – E – BENAZIR"
---
" Agar Firdaus bar roo-e zameen ast, hameen ast-o,hameen ast -o,hameen ast".
which  means
" If there is a paradise on earth, It is this,it is this,it is this".
Kashmir Day was observed by the students of L.K.G -II with great enthusiasm today -6th June '2014. Students were brimming with excitement while experiencing the rich cultural heritage of our state through a program which featured WANWUN, Rouf, PRAYER, LAADI SHAH, PUPPET Show (on the theme : Unity and Love for our language), SONGS.
The celebration started with a speech Ms Asifa who stressed on inculcating more Kashmiri Culture among the students. It was followed by traditional Wanwun written by Ms.Mahjabeen Zaki. The kids also joined in while the teachers were singing.The next performance was the Kalaam of our great Sufi poet – "Mehjoor "
——Sahiboo Saath Chem Me Chani………….
Rubaani of class II presented the Laadi Shah ( Satire) making interesting observations on our own . Students were enthralled by the lively puppet show which gave a message to speak in our Kashmiri Language. It was a delightful Assembly which once again reminded us about the culture and traditions of Kashmir.
Invalid Displayed Gallery