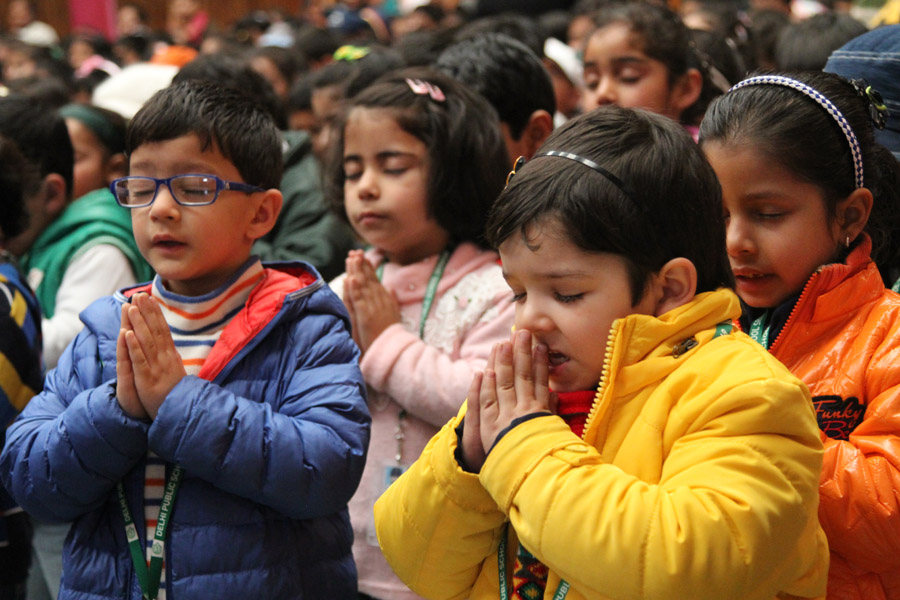 Tiny Tots Jashn-e-Bahar Assembly
---
It was a sight to behold the Tiny Tots students dressed in colourful attire against the back drop of a cloudy sky flitting around like butterflies today, heralding the advent of spring.
This week has been an unfolding series of happy events for the youngsters celebrating their first week in school after a long winter break. To break the ice, their teachers had planned well to make them feel at home with a new set of teachers, with many enjoyable activities planned to kick start this academic session. Today was no different, with students filling the atrium in an orderly manner and their soulful rendering of Lab pe aati hai dua… adding an aura to the atmosphere.
Soon after the prayer the teachers welcomed the students and gave them various details about seasons highlighting the spring season.  Then teachers presented a traditional dance "Rouf" on the song "Roshi walla myani dilbaro…." to welcome Bahar. After that another other group of teachers performed a skit for the students to informing them on the importance of flowers, trees, water in our lives. The skit also informed the students concerning the consequences of felling down trees, plucking, flowers, wasting water. The teachers imparted the concept of Global Warming in a very playful way that each child got sensitised towards nature and its resources and vowed to protect the same in their own little ways. The skit also reinforced the things they had learnt on their visit to Badamwari. Each student watched and enjoyed the skit with interest responding in unison to questions posed to them. After the play, another group of teachers presented a Kashmiri song on the arrival of Bahar "Bul bul wanaan chu poshan, gulshan watan chu sonuy…….." which was  applauded by the students.