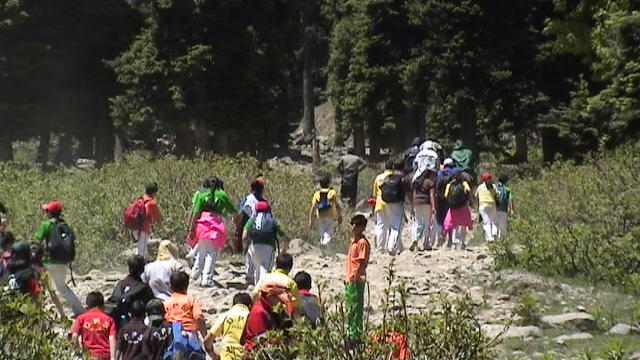 Trekking to Gulmarg by class V
---
"The purpose of life is to live it, to taste experience to the utmost ,to reach out eagerly and without fear for newer and richer experience"
Dps has always tried to inculcate the spirit of adventure among the students. It believes that propagating adventure and similar activities at the elementary level and exposing them to its thrills would bring them closer to nature. Outbound group activities and nature consciousness have an innate advantage in molding a child's character.
On 12 June, 2014 the third group of students left for a trekking expedition. The trekking started with enthusiastic students arriving promptly at 8:00 am with their equally enthusiastic parents. Seeing the students entering the Amphi Theatre with their baggage was a view to watch.
Over 94 students with 69 boys including 25 girls of DPS participated in the trekking. The group was being led by Mr Tajendar, Ms Sheema , Ms Shabia , Ms Soliya , Mr Sartaj.
The participants left the school at 9:00 am in 4 buses along with the teachers and reached the destination at 11:30 pm. The lodging was given by the IISM, Gulmarg. After unpacking, the students were given refreshments and then they proceeded to the canteen area for lunch. After lunch, they got ready for a light trek to Babareshe – a spiritual shrine attracting all faiths. The next day they proceeded for a morning walk and exercise. They were also taken to (KhilanmargGlacier) for some fun and frolic in the snow. In the evening they had a cultural programme and the chief guest of the programme was Principal IISM, Col. J. S. Dennel. He interacted with the students & teachers and appreciated the school management for providing students with the opportunities to develop leadership qualities among them. The students were surprised when they were invited to a campfire.
Next day, they were taken to KANCHENJUNGA MUSEUM where they were informed about the various adventure sports and the tools and equipment needed for the same. After exploring the museum, the students were taken back to IISM where they had lunch, following which they were instructed to pack their belongings and prepare for the return journey. Parents fetched their wards from the school around 6:00 pm with hearts full of sweet memories of the camp.
Invalid Displayed Gallery