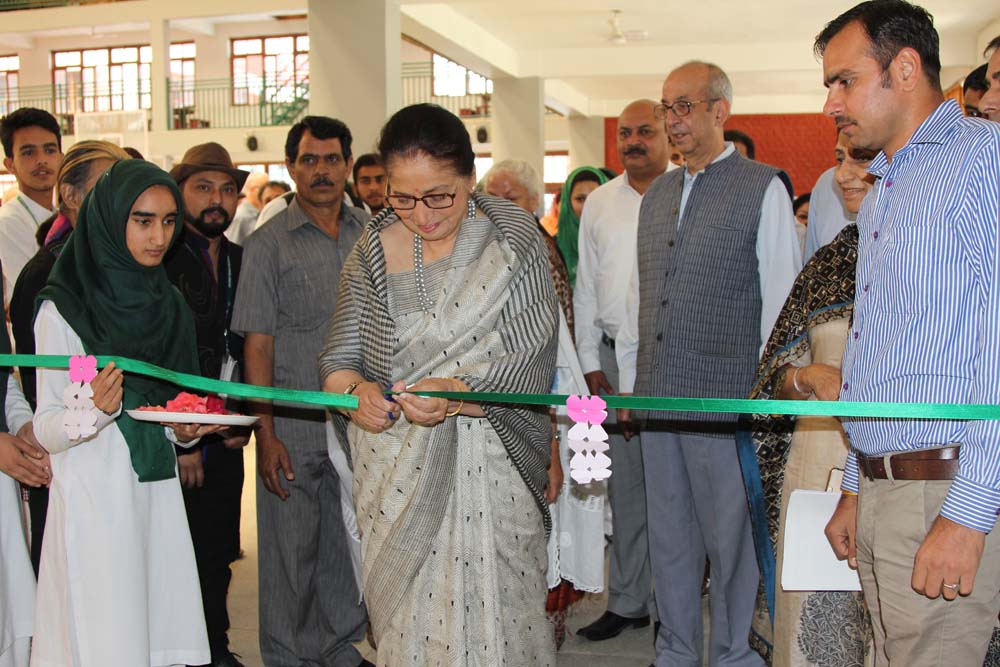 Usha Vohra inaugurates International Spring Art exhibition
---
Her Excellency First Lady Usha Vohra today inaugurated International Spring Art exhibition at our school. On the occasion chairman D.P. Dhar Memorial Trust Vijay Dhar, principal Mrs. Kusam Warikoo and Secretary J&K Academy of Art Culture & Languages Dr. Aziz Hajini were also present.
The present International Spring Art Camp was designed and curated by Shama Sondhi and  sponsored by D.P. Dhar Memorial Trust under the patron-ship of Mr. Vijay Dhar, the chairman of the trust.
Art works of artists from various countries was exhibited in the exhibition. Participating artists were from Ireland, Malaysia, Taiwan, Singapore, Nepal, Indonesia, Vietnam and India. Usha Vohra in her address to the audience said, it was a pleasure to come here and witness the beautiful art work. I congratulate everyone for doing such a brilliant work. She also said whenever I come here I get new good things to witness. Mrs. Vohra also released a booklet on the art work of participating artists.
She also congratulated Vijay Dhar chairman D.P. Dhar Memorial Trust for taking such initiatives and supporting such camps. Participating artists were very happy to be part of such a camp and wish to be part of such camps in future as well.