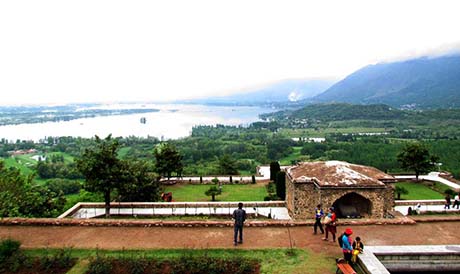 Visit to Pari Mahal
---
On 14 May,2014 the school organised  an educational-tour to Pari Mahal, yet another fabled place in this beautiful 'Reshi Vaer'. The trip was organised by the Social Science Faculty and as anticipated, proved fruitful for not only students but the accompanying staff as well. The students were briefed about the history, architecture, geography, economic importance and tourism value of the place. The students were divided into groups and were allowed to explore the place. Each group was asked to conduct surveys, on one of the following chosen perspectives of Pari  Mahal.
Indo-Islamic Architecture: Students bearing roll numbers 1-5 of each section of class 10th were asked to make a survey of the place, trying to explore the Islamic and other Indian influences on the architecture of Pari Mahal.
Geographical Importance: Roll numbers 6-10 studied the location, flora, fauna,pollution, encroachment and other geographical aspectsof this Mahal which gives a bird's eye view of the entire 'Shehr-e-Khas'.
Economic Importance:This 'Abode of the Fairies' is located at a high altitude, and was built in the mid 1600s. It would have cost Dara Shikoh a huge amount to build this 'abode' and it would be worth 100's of croresin today's economy, not only as a palace, but also for the income it generated. Students bearing roll numbers 11-15 tried to explore all this.
Heritage:Roll numbers 16-20 of each section of 10th class took a walk, within and outside this seven terraced garden, trying to get a feel of the heritage value of this place.
Trigonometry: Using the trigonometric function,the students bearing roll numbers 21-25 calculated the dimensions of this historical place, studying the relationships involving lengths and angles of triangles.
Painting: Pari-Mahal is worth the long steep ride, for the picturesque overview of Dal Lake, the beauty of its palace ruins, and gardens set against the lustrous, green Zabarvan hills in its backdrop. Students bearing roll numbers 26 to 30 tried to capture this fabulous view, on their drawing sheets.
Tourism: Finally, students bearing roll numbers 31 to 36 interacted with the tourists who had come to see this 'Palace'. The students tried to understand their views about Kashmir as a tourist place,the culture, its people and environment of this "Jannat-e-Benazir".
Invalid Displayed Gallery