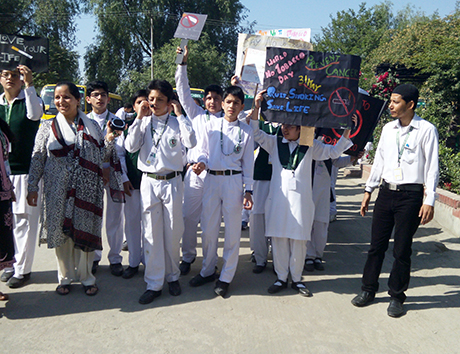 WORLD NO TOBACCO WEEK OBSERVED
---
To spread the awareness of the harmful effects of tobacco a 'SAY NO TO TOBACCO' week was observed in DPS, Srinagar. Students laid emphasis on all the harmful effects of using tobacco through different activities.
Students of class VIII rallied raising slogans and displaying placards through the campus and finally addressed the masses in the school ground. They stressed upon the different diseases caused by the rise of nicotine levels in our body. Cigarette smoking is not just fatal for the smokers but passive smoking is also the leading cause for many cancers around the world, according to certain studies conducted in Universities.
Simultaneously, class VI sang 'Thematic Jingle' they had prepared and tried their best to convey their message.
No No No Tobacco,

We all say no tobacco

Hate tobacco, stop tobacco.

It will danger your life,

And will cut it with a knife.

No no no tobacco,

We all say no tobacco.

Stay healthy and fit,

And make your life a hit.

No no no tobacco,

We all say no tobacco.

Tobacco is a killer,

Find some other filler.

No no no tobacco,

We all say no tobacco,

Hate tobacco, stop tobacco.

Throw tobacco, ban tobacco.

Don't waste your money,

Live your life like a bunny.

No no no tobacco,
Invalid Displayed Gallery
We all say no tobacco,

Hate tobacco, stop tobacco