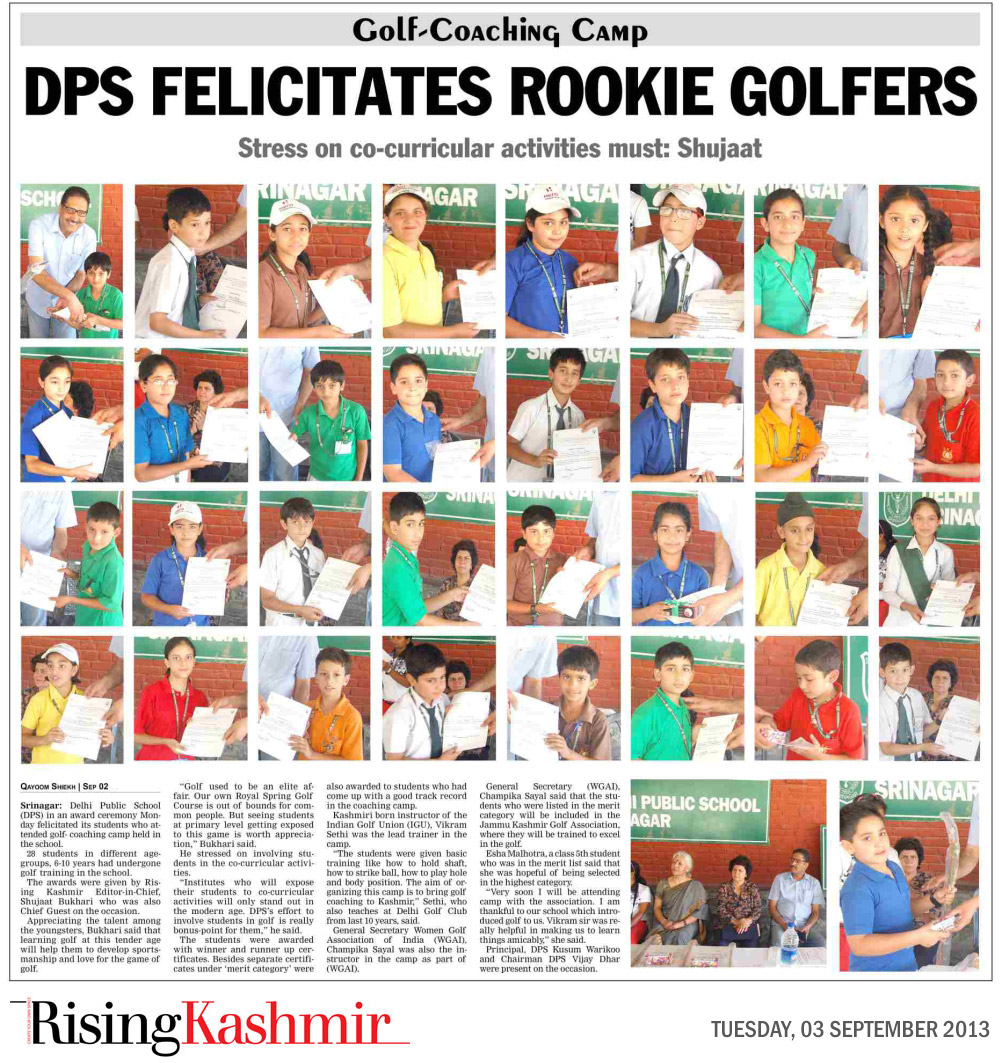 DPS felicitates rookie golfers
---
Golf-Coaching Camp Stress on co-curricular activities must: Shujaat
Qayoom Shiekh

Srinagar, Sep 02: Delhi Public School (DPS) in an award ceremony Monday felicitated its students who attended golf- coaching camp held in the school. 28 students in different age-groups, 6-10 years had undergone golf training in the school.
The awards were given by Rising Kashmir Editor-in-Chief, Shujaat Bukhari who was also Chief Guest on the occasion.
Appreciating the talent among the youngsters, Bukhari said that learning golf at this tender age will help them to develop sportsmanship and love for the game of golf.
"Golf used to be an elite affair. Our own Royal Spring Golf Course is out of bounds for common people. But seeing students at primary level getting exposed to this game is worth appreciation," Bukhari said. He stressed on involving students in the co-curricular activities.
"Institutes who will expose their students to co-curricular activities will only stand out in the modern age. DPS's effort to involve students in golf is really bonus-point for them," he said.
The students were awarded with winner and runner up certificates. Besides separate certificates under 'merit category' were also awarded to students who had come up with a good track record in the coaching camp.
Kashmiri born instructor of the Indian Golf Union (IGU), Vikram Sethi was the lead trainer in the camp.
"The students were given basic training like how to hold shaft, how to strike ball, how to play hole and body position. The aim of organizing this camp is to bring golf coaching to Kashmir," Sethi, who also teaches at Delhi Golf Club from last 10 years, said.
General Secretary Women Golf Association of India (WGAI), Champika Sayal was also the instructor in the camp as part of (WGAI).
General Secretary (WGAI), Champika Sayal said that the students who were listed in the merit category will be included in the Jammu Kashmir Golf Association, where they will be trained to excel in the golf.
Esha Malhotra, a class 5th student who was in the merit list said that she was hopeful of being selected in the highest category.
"Very soon I will be attending camp with the association. I am thankful to our school which introduced golf to us. Vikram sir was really helpful in making us to learn things amicably," she said.
Principal, DPS Kusum Warikoo and Chairman DPS Vijay Dhar were present on the occasion.
Published in Daily Rising Kashmir – 03 September, 2013 on Page 11