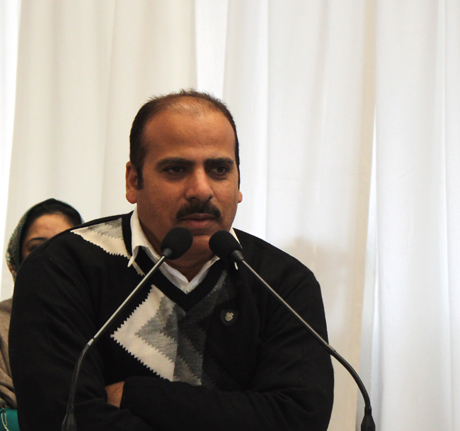 On the auspicious occasion of Children's Day , the acres of Delhi Public School, Srinagar were visited by the Wonderful artist, typically renowned as the Voice of Kashmir, Mr. Waheed Jeelani. The Guest visit was arranged by the Indian Council for Cultural Relations (ICCR).
The programme started with a beautiful song sung by the group of Students of DPS, Srinagar which was immediately followed by a beautiful ghazal by Yamin.
Mr. Waheed Jeelani was then handed over the stage along with a group of renowned musicians and artists from the Valley and an appreciating and inspirational speech from his side was followed by his stage singing performances. Mr. Jeelani initiated his performances with a melodious Kashmiri song. This was followed by an unending list of song-requests by the students which Mr. Jeelani fulfilled with his mesmerizing voice.
After his performances, a few students sang some Ghazals and were all highly appreciated by the great personality.
In the end, Mr. Ayaz Rasool Nazki, Regional Director of ICCR gave and inspirational speech expressing a combination of joy and astonishment on the talent of the Students if the School in the fields of Art and Music. Mr. Nazki also expressed his view of facilitating the Students of DPS, Srinagar to be trained in Art, Drama, Theatre, and Music in different parts of the World.
At the end, the student-performers were awarded with books by Mr. Nazki on behalf of ICCR.
Mr Nazki and Mr. Waheed Jeelani also visited the Art rooms and Music rooms of the School and highly appreciated the School for the way it is grooming the young buds in the fields of art and music.