Work Experience Workshop Class X (Socially Useful Productive Work)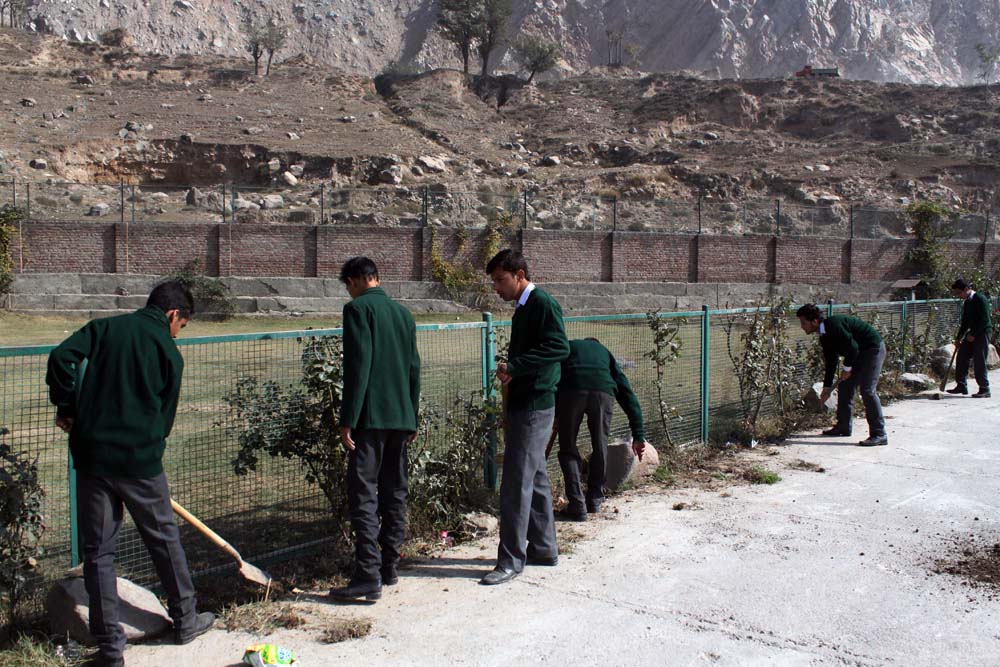 Three day long club activities for class X of DPS Srinagar began on the 28th of October, 2013. Students were grouped into various clubs formed on the basis of their interest and aptitude. Various skills such as carpentry, wicker-work, pottery, paper machie, cookery, music and electrics were imparted to them by resource persons who not only provided guidance and encouragement to students but also motivate them to bring out their best and unleash their hidden talents.
The area around the main building was the chosen venue for most of the crafts. The staff members distributed the required raw materials and in a matter of few hours, children could be seen churning out the finished and semi finished goods out of these. The resource persons loved the skills of these young enthusiasts and the teachers were there to oversee the progress.
Young potters were seen moulding the clay into beautiful earthenware pots, bowls, vases and decorative items. Equally impressive was the whole range of wood products such as beds, boats, couches, dining table/chairs , almirahs, bird house, etc. put forth by our young carpenters. Wicker baskets and sundry items of wicker and paper machie were both aesthetically made bringing home the message that our children have all the energy, skills and talents to be masters of their crafts- all they need is the helping hand to channelize their energy and the right platform to showcase their talent.
Physics lab was also the hub of activity where young scientific minds were putting together circuits and making models of various appliances used in everyday life. Some of the gadgets included electric iron, table lamp and working of domestic wiring system.
The young chefs in kitchen were totally engrossed in making one mouth watering dish after another ranging from traditional to continental. Pulao, biryani, firni, lasagne, banana fitz, chilli chicken and fruit cream were some of the delicacies savoured by all.
Finally the young music buffs enthralled everyone with their beautiful rendition of popular music. Both instrumental and vocal music techniques were taught and practised.
The three day event culminated into an exhibition of the array of products made and presented by the students. Staff members and experts who evaluated them couldn't help admiring the tremendous team work, group dynamics and leadership qualities that the student displayed.
These club activities were thoroughly enjoyed by the students as they provided not just a refreshing change from daily routine but also helped in developing eco sense, teaching them the values of resourceful use of resources.
DPS firmly stands for internalizing the virtues of patience , perseverance and dignity of labour among its students. Taking students beyond academics and giving them the opportunity to give vent to their creativity is the aim behind this work experience. With god's grace and the hard work put in by students, it turned out to be a great success.