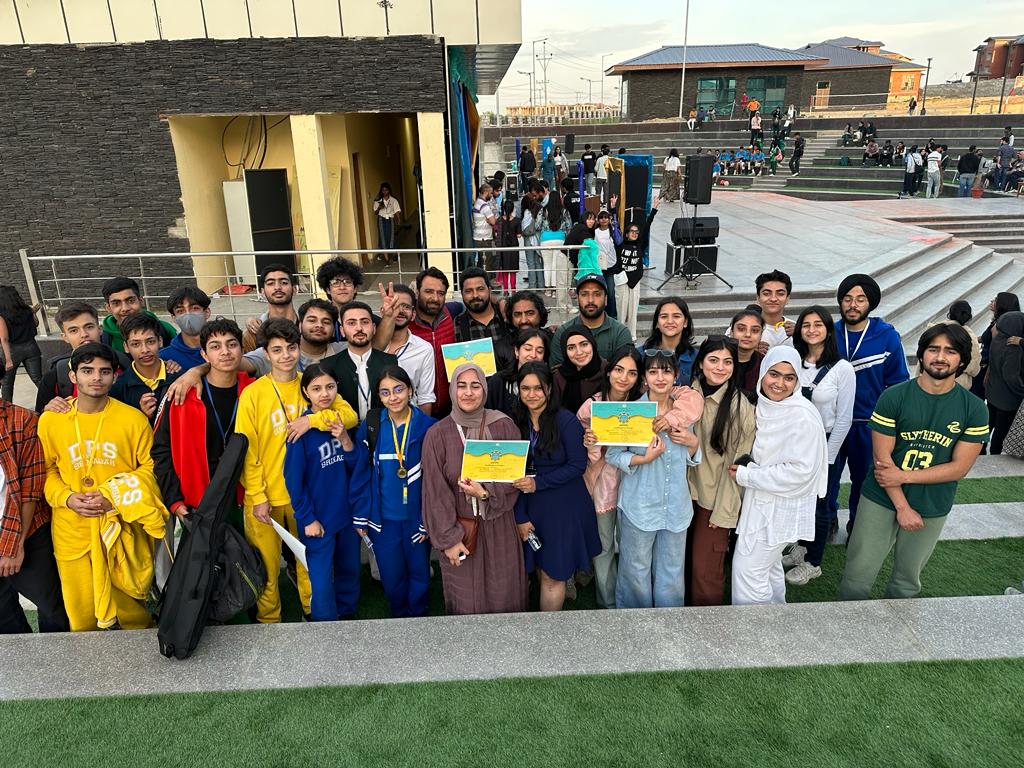 DPS Srinagar shines at SPECTRUM 2023
---
DPS Srinagar, renowned for its commitment to fostering and nurturing many talents among its students, achieved yet another milestone as it emerged victorious in different genres of theater, singing and athletic competition in the the two-day youth festival- SPECTRUM-2023 organized at the campus of the National Institute of Fashion Technology (NIFT) Srinagar on May 17th & 18th. Spectrum is the annual cultural event of NIFT Srinagar where students from NIFT as well as all leading educational institutions in and around Srinagar co-participate in events spanning the performing arts, sports, debates, fashion shows and literature.
The event witnessed an intense competition between various schools and colleges with DPS Srinagar's students leaving a lasting impression on the audience and judges alike. Under the mentorship of teachers and coaches, the participating students exhibited exceptional acting & singing skills, stage presence & coordination and sports performances. Their dedication, hard work, and commitment to their diverse array of disciplines were evident throughout their performances, leaving the audience spellbound.
The talented participants who brought laurels to DPS Srinagar in the captivating theatrical acts were Aynoor, Azwa Anas, Khatija Masoodi, Injla Shafi, Moiz Niyaz, Abu Bakar, Zainab, Kalima Iqbal, Saher Reshi, and Ayra. Each of them displayed a unique flair for theater, bringing their characters to life with authenticity and passion.
The cultural segment of the festival witnessed mesmerizing solo and duet performances by Jazreet Singh, Bareena Liyaqat and Jashnjyot Singh. They secured first position in both the categories. The title "Battle of the Bands" was also scored by the students of DPS Srinagar Raqeem Ahmad, Muneem, Sheikh Ibrahim, M. Tameem Rather, Ali Shabir, Ali Nawaz, Ridha Gouse, Hadi, M. Bakhtiyar Bhat, Suhaib Nawaz and Zaigham Wajahat.
The competition held at NIFT Srinagar provided a platform for young students to showcase their talent and creativity. It served as a testament to the power of school in nurturing self-expression, self- discipline and confidence among students. DPS Srinagar's victory not only recognizes the exceptional talent of the participants but also reflects the school's commitment to providing a holistic education that fosters creativity and artistic excellence.
The sports athletes of DPS Srinagar performed also presented a spectacular show by securing first position in each category. In Basketball Boys DPS, Srinagar defeated Life School in finals by 53/0 and DPS, Srinagar basketball girls defeated Life School in finals by 13/0. In Single Boys Table Tennis DPS, Srinagar defeated Life School and in doubles DPS, Srinagar defeated SP College. Lastly, in Chess Boys DPS, Srinagar defeated Life School in finals.