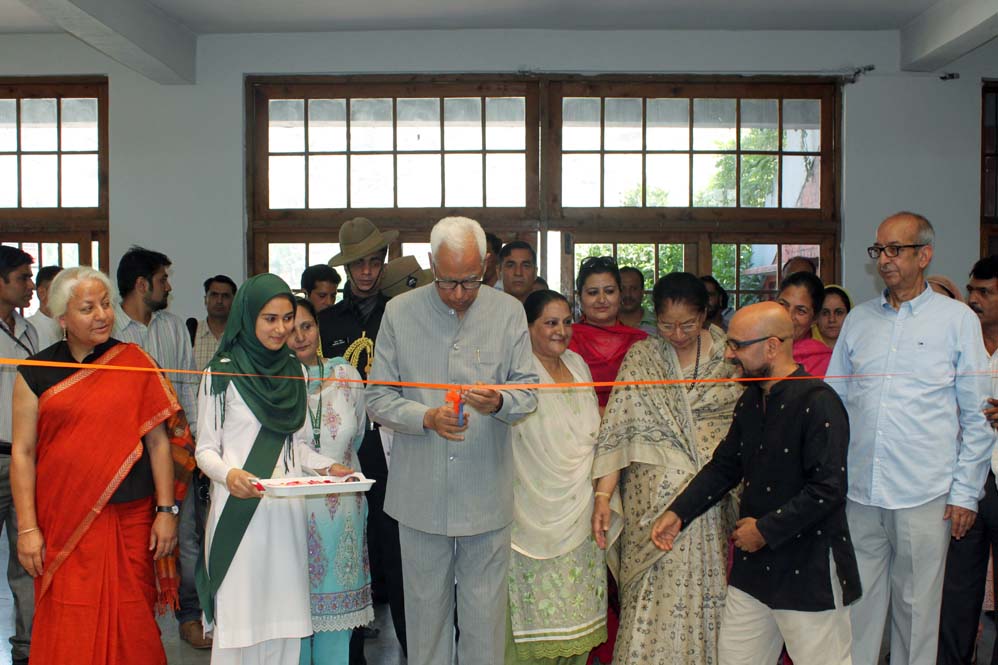 Governor N N Vohra inaugurates – To Our Roots Art Exhibition
---
SEMINAR AND EXIBITITION OF  J&K ARTISTS AT D.P.Dhar Memorial Trust, Srinagar (30th july-5th august 2014) curated by Mr Veer Munshi, inaugurated by Governor of state Sri N.N Vohra, supported by chairman Shri Vijay Dhar, Smt Kiran Dhar, Madam Kusam Wariko Principal DPS School. Co-ordinated by Ms Shama Sondhi.
Participating Artists 
Zahoor zargar, Rajinder Tiku, Masood Hussain, M.A.Mehboob, Shama Sondhi, Shabir Mirza, Bushan Koul, Aftab  Ahmad,  A.K Raina, Vijay Meenagi, Shaiqa Mohi, Veer Munshi, Gokul Dembi, A.K.Raina , M.K.Bhat and Lalit Gupta.
Curators Note 
Indeed it has been an enriching experience for all of us to work here for past one week.
Though all of us have been participating in such activities time and again, yet "to our roots" was entirely different in its purpose and structure. The main and basic purpose of the event was to bring together the artists of the valley who unfortunately have been living elsewhere in the country and those who have been staying here. It also provides us an occasion to be together and share our memories, agonies and ecstasies.
At this point I feel it pertains to express that it is very important for us to put together the history of our recent past in general and that of development of visual arts in our state in particular. Through this event, we have together taken a step in this direction.
I thoroughly feel, that for us who have been culturally profound and rich it is even more important to preserve our heritage and pass it on to our coming generations.
It is very important for all of us, the cultural professionals to make focused efforts in the mentioned direction and also for the state to provide us possible official support.
We are dreaming for an inclusive and dynamic cultural space here in the valley.
I may also like to thankfully mention, that at a place, where institution's like D.P Dhar memorial trust, are already engaged in serious patronage of cultural activities in general and visual arts in particular, it may not be difficult for us to together realize our dream .