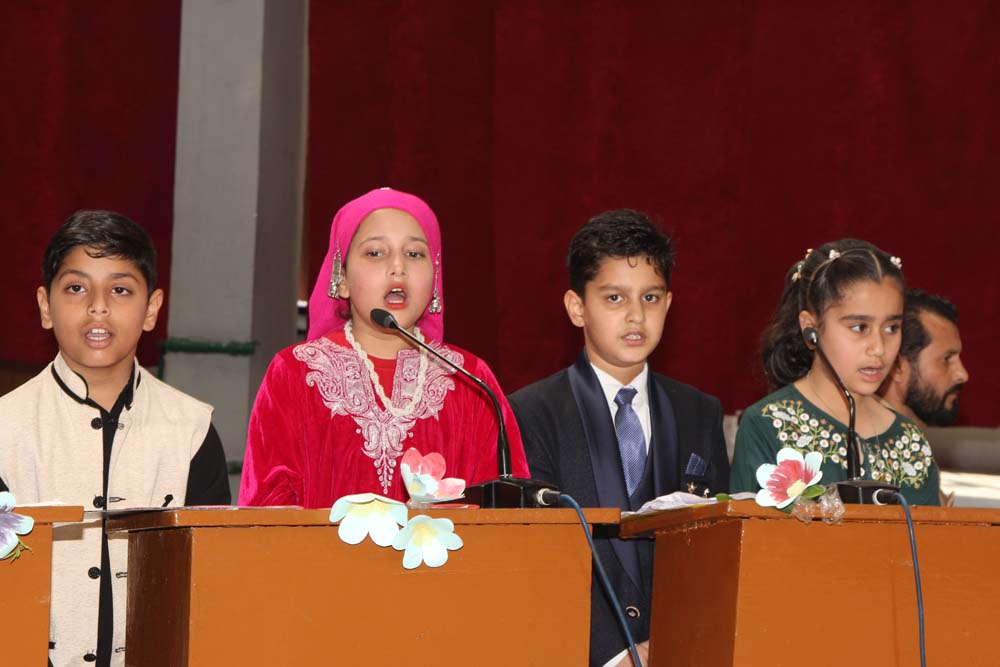 School conducts Annual Day for grade III
---
"The Annual Day is very important day for all the schools. On this day students get a chance to come out of their classrooms and display their talents in front of big audience. This particular day has been designated for various kinds of activities altogether."
Delhi Public school, Srinagar celebrated its first Annual Day with unprecedented fanfare on 7th September 2022 for students of grade III. As the fusion of dance styles and music captures our hearts, we undertake to take up a vital theme i.e. "THE HAPPY FEET".
The event was attended by the Principal Ms. Shafaq Afshan, Academic Incharge (Tiny-Tots/Junior wing) Ms. Radifa Khan and other academic incharges.
The junior wing performed about a dozen different programmes: mainly dance , education forma and hip-hop songs! They did perform: With gay abandonment! In simplicity and in spontaneity! With the innocence which childhood is all about – they were there on stage to be themselves, to enjoy. They did so with gusto and to the vociferous delight of the huge crowd which was present to witness a child-centred performance! The ambience buzzed with hopefulness and avidity. The event was an amalgamation of spectacular manoeuvres which left the audience spellbound. The energetic performers unveiled their limitless dynamism through a blend of euphony and rhythm which was a cynosure of all eyes. The event got hold of everyone's adulation and plaudits.
The event began with the school prayer, followed by different cultural dances which children enjoyed on the beautifully played musical note. The unity and diversity of India was portrayed by a very well-crafted interplay of colorful dances of various states of our country one after the other enthralling the audience. The children represented series of dance forms which included Rajasthan folk dance, "GHOOMAR" performed as a means of worship on festive occasions, and also during marriages was beautifully presented and performed by our little munchkins. "GOAN DANCE" which was equally appealing while our little blossoms were enjoying in black and red. Similarly "BRAZILIAN DANCE" that displayed love for one's country, "BENGALI DANCE" little girls dolled up in red and white saree's was a fantastic performance which was unbelievably performed, BHANGRA" dancers executed vigorous kicks, leaps, and bends of the body—often with upraised, thrusting arm or shoulder movement was spectacular. "DHANDIYA" girls dressed in blue and skillful use of sticks was worth praising "WESTERN DANCE" rocking in hip-hop styles ,added spice to the event which bewitched the audience through their graceful and flawless moves. "DANCE INFORMA" the heart -touching words of the performers led to the emotional outburst of the audience where many of the parents were unable to hold back their tears. Kashmiri folk dance a" ROUF" performed by our youngsters who were dressed in regional costumes was simple, yet cheerful including famous footwork skills of traditional folk dance forms. Children showcased the culture and love for different dance forms.
The event was a success as it brought happiness, tears, laughter and joy to our parents, watch their child perform before a huge crowd. Parents and grandparents were overwhelmed by the show they cheered and applauded throughout the event. The mesmerized expression on their faces was a beautiful sight.
At last, the Principal Ms. Shafaq delivered a speech in which she thanked the audience appreciated the efforts of students as well as teachers for making this event worth memorable and the event was got over successfully.